OOTBS Thought:  A true tragedy to lose 1,000 year old trees, potentially forever.  Hopefully a quick drenching will squash the fires before engulfing the entire forest.
Original story below.
Devastating long-term prognosis for ancient Gondwana ecosystem as bushfires turn trees more than 1,000 years old to tinder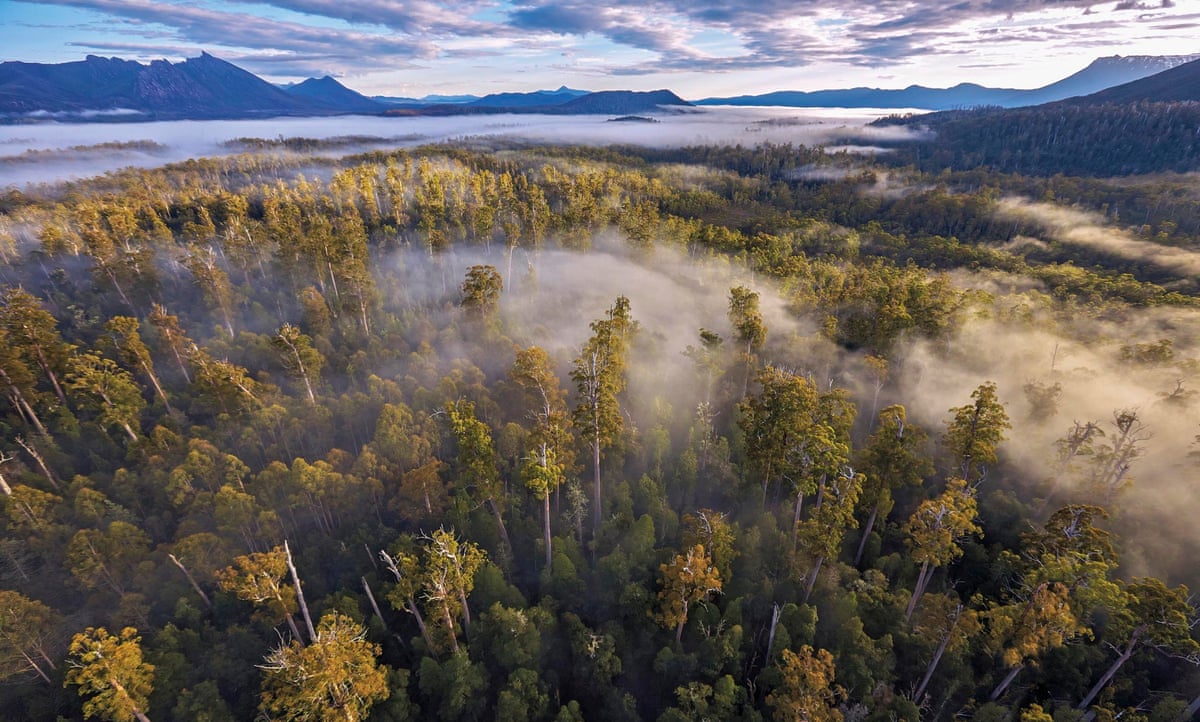 A global tragedy is unfolding in Tasmania. World heritage forests are burning; 1,000-year-old trees and the hoary peat beneath are reduced to char.
Fires have already taken stands of king billy and pencil pine the last remaining fragments of an ecosystem that once spread across the supercontinent of Gondwana. Pockets of Australias only winter deciduous tree, the beloved nothofagus whose direct kin shade the sides of the South American Andes are now just a wind change away from eternity.
Unlike Australias eucalyptus forests, which use fire to regenerate, these plants have not evolved to live within the natural cycle of conflagration and renewal. If burned, they die.
To avoid this fate, they grow high up on the central plateau where it is too wet for the flames to take hold. But a desiccating spring and summer has turned even the wettest rainforest dells and high-altitude bogs into tinder. Last week a huge and uncharacteristically dry electrical storm flashed its way across the state, igniting the land.
While these events have occurred in the past, says David Bowman, a professor of environmental change biology at the University of Tasmania, they were extremely rare, happening perhaps once in a millennium.
Its killing trees that are over 1,000 years old; its burning up soil that takes over 1,000 years to accumulate, he says.
If this truly were a once-in-1,000-year event, says Bowman, then to be alive when it occurs is like winning TattsLotto for a fire scientist. But we no longer live in the same world.
The fires were preceded and aggravated by the coincidence of two natural climate events the Indian Ocean dipole and the Pacific El Nio. The cooling of the east Indian Ocean caused Tasmanias usually drenching spring rains to fail almost completely. El Nio also tends to bring hot, dry summers. These natural phenomena happen on a timeframe of decades, not centuries. Confluences have occurred before, yet the forests did not burn.
We are in a new place, he says. We just have to accept that weve crossed a threshold, I suspect. This is what climate change looks like.
On the mainland of Australia and around the world, as the climate warms the occurrence of catastrophic fires is on the rise. One telltale sign of climate change is that these fires were set by storms not people. Lightning was expected to increase under climate modelling, says David Lindenmayer, a professor of ecology and conservation biology at the Australian National University in Canberra.
Between 1993 and 2003, Tasmanias Parks and Wildlife Service recorded 17 fires started by lightning. In the next decade that number rose to 30. In a fire risk assessment of the world heritage area, the service warned that lightning fires should no longer be viewed as natural because of the influence of climate change. It concluded that lightning fires were now the main threat to the survival of the world heritage area.
Clearly the fire regime is starting to change, Lindenmayer says.
In neighbouring Victoria, major fires that naturally occur every 75 to 120 years have occurred every 20 years, on average, for the past century.
Thats what other people have been forecasting is going to happen, Bowman says. We are going to see more fires, over larger areas, that are more frequent and of higher severity. What we are seeing in Tasmania would appear to be a manifestation of that.
The implications of this are, of course, goodbye Gondwana. Because Gondwana cant live in this sort of world.
Tasmanias wilderness is to Gondwana, which broke apart 180m years ago, what the Great Barrier Reef is to coral the most magnificent example of a dwindling wonder. That is why Unesco put a vast swath of the island 1.5m hectares on its world heritage list in 1982. Once you account for its Aboriginal heritage, the property fulfils more world heritage criteria than any other site on Earth.
To cross this immensely empty landscape takes weeks. As a child, my parents would often take me on treks among the ethereal alpine forests of Tasmanias central highlands; where ragged pencil pines sit beside bogs and tarns. I was warned never to tread on the cushion plants. Like the corals of the reef, these communities of tiny plants build upon the dead skeletons of their predecessors to create the kind of bulky, alien green globules that a 10-year-old boy just has to run and jump on. But, in doing so, Id be destroying hundreds of years of minute architecture. So lightly, reverentially, we trod around them.
As with the worlds corals, climate change is now an immediate threat to the continuity of this geologically paced building project.
The Unesco listing is still considered one of the greatest environmental coups of all time. Victorious campaigners expected the landscape would be protected against human caprice for their great-grandchildren and beyond. Never would it have crossed their minds that the survival of the Gondwanan ecosystem would be threatened in their own lifetimes.
Like many Tasmanians, Bowman is a dedicated bushwalker.
Its a bit like knowing someone you loves got cancer, he says. You have to get your mind around the inevitability, I suppose. You grieve. Its a sadness. Its going to be pretty hard for this stuff to survive, certainly in the 100-year time frame. It stretches my mind to believe that therell be much of this stuff left in 50 years.
An official from Unesco confirms that there is immediate concern at the agency for the wellbeing of the site and that it has requested information from the Australian government about the fires. But Unesco will not comment on whether it has concerns about the long-term survival of the property under climate change. Unesco was warned about the potential risk that climate change-driven fires posed to the site when it sent a mission to the island in November.
At lower altitudes, outside the world heritage area in the disputed Tarkine wilderness and across the north of the state, old-growth rainforests are also burning. The Tarkines ancient copses, which form the biggest rainforest in Australia, are cut through with a patchwork of logged forests. They take centuries to regrow after fire. But Lindenmayer says it is unequivocal that logging has put them at greater risk of burning. His research has found that forests logged within the past 40 years burn hotter and more easily than if they had been undisturbed.
Youve got these hotspots all through the landscape and those are more likely to burn at high severity and they are more likely to join up, he says. That means that the unlogged bits that are near the logged bits are more likely to get fried.
All over the globe you see this kind of thing happening where there are wet forests.
Geoff Law, a longtime Tasmanian conservationist and former head of the Wilderness Society, describes Bowmans long-term prognosis for the Gondwanan forests as devastating.
But, in the meantime, there is a tangible crisis requiring a tangible solution aerial water-bombing capacity, he says. Pressure from abroad on the Australian government could help achieve this.
Tasmanian fire crews are monitoring roughly 100 fires around the state, rightly prioritising the protection of property and life. The former Australian Greens leaders Bob Brown and Christine Milne have written to Malcolm Turnbulls government calling for remote firefighting assistance from the mainland. (Law, Milne and Brown were all among those who fought the original campaign on the Franklin dam that led to the creation of the world heritage area.)
Brown told the ABCs Radio National: Tasmania has just experienced the driest spring in recorded history, then the hottest December. Theyve had almost no rain in January. Everything is hotter and drier, so we are facing unprecedented conditions in human history … due to the human-caused climate change.
Bowman says he hopes rains will arrive to relieve the fire crews. But, in a way, its a bit immaterial whether the rain comes and puts it out or doesnt put it out. If what Im saying is correct, then weve got to get through next summer and weve got to get through all these summers in a world thats getting hotter.
Read more: http://www.theguardian.com/environment/2016/jan/27/world-heritage-forests-burn-as-global-tragedy-unfolds-in-tasmania