OOTBS Thought:  Having been through two hospital births in the last 3 years, experience tells me that in the US, breast-feeding is highly recommended and encouraged at the hospital level.  Every new mom gets a lactation specialist to ensure the baby can latch and get the supply.  What is concerning is how parts of our society can not handle this simple act of nature…but then again, we do find it necessary to build entire rooms dedicated to other natural acts like urinating.
Original story below.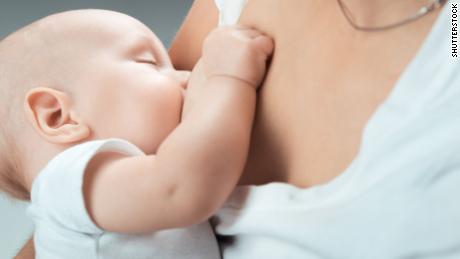 (CNN)I've written before about how I simply don't get how we in the United States remain so squeamish about breast-feeding — and how despite all the research that 'breast is best,' many U.S. hospitals are still not providing women with breast-feeding support.
 If we know — based on actual scientific studies — that breast-feeding can provide health benefits to mother and baby, why aren't we doing everything we possibly can to make it easier and more socially acceptable for women who choose to breast-feed?
 Maybe a new two-part comprehensive report
published Thursday in the medical journal The Lancet
and billed as the largest and most detailed analysis of the existing research on breast-feeding around the world will help bring about change in the United States and globally. More than 1,300 studies were reviewed, including some commissioned specifically for this report, which focused on the levels, trends and benefits of breast-feeding.
Think of the health implications alone. Based on new estimates produced for the report, dramatically scaling up breast-feeding to near-universal levels for infants and young children could save 820,000 children's lives a year around the world, preventing 13% of all deaths of children under five.
"Breast milk acts as a baby's first vaccine to help fight disease and illness," said Dr. Cesar Victora, emeritus professor of epidemiology at the Federal University of Pelotas in Brazil, one of the co-authors of the report, in response to questions via email.
"I do think that if you can see countries like Brazil that can make, with high-level political support, fundamental changes in the social norms throughout the whole system, I think it's probably possible anywhere," said Baker of the Bill & Melinda Gates Foundation. "It's creating the right conditions and I think that's what's also very important. You can't say, 'OK, we're just going to focus on the mom' without understanding what context that mom lives in."
Baker was recently in the field in Bangladesh and says one of the great innovations to change behaviors there are home visits, which include not just the mom, but also the dad and the mother-in-law. A mother's behavior, in any part of the world, can be extremely influenced by what her mother-in-law or her mother says when it comes to child feeding. I'm sure any mother reading this understands that statement immensely.
"So, just speaking to her without trying to address the neighboring environment around her is going to … not give good results and in fact, sometimes put her in a situation where she'll feel very frustrated because she will want to practice the better feeding behavior, but her mother-in-law or her husband will give contrary advice," said Baker.
"I think that looking at the whole system, the environment in which the mom lives and addressing that is really quite important" in any part of the world, he added.
Why do you think are the biggest barriers to breast-feeding? Share your thoughts with Kelly Wallace on Twitter @kellywallacetv or CNN Health on Twitter or Facebook.
Read more: http://www.cnn.com/2016/01/28/health/breast-feeding-global-rates-health-impact-lancet/index.html