OOTBS Thought:  El Nino is getting a seriously bad rap.  I don't think there is much doubt in the fact that it does create a better scenario for the mosquitoes that spread the disease.  No matter what you think about El Nino's impact, a serious solution needs to be found for this terrible disease.
Original story below.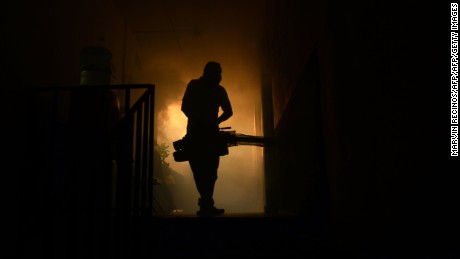 (CNN)It seems El Nino gets blamed for everything. From homes teetering on the edge of cliffs in California to worsening fires and haze in Indonesia, the impacts from El Nino are diverse and wide ranging. But could this year's rapidly worsening Zika virus outbreak be related to the ongoing record El Nino?
The answer could quite possibly be yes. "Meteorological factors certainly play an important role in determining the global range of the virus-transmitting Aedes (aegypti species of) mosquitoes and how competently they can transmit a virus," said Andrew Monaghan, a research scientist at the University Corporation for Atmospheric Research.
El Nino, which is characterized by warming waters in the central and eastern Pacific Ocean, typically brings warmer temperatures and shifting precipitation patterns to South America and can create conditions that help mosquito populations, and the diseases they can transmit, thrive.
El Nino is almost certainly playing a role in the Zika virus "spreading explosively," as the head of the World Health Organization said on Thursday. It will likely continue to spread as these conditions continue to create an environment where the mosquitoes can thrive.
Once the temperatures rise in spring and summer in the United States, the Aedes aegypti mosquito that is spreading the disease will likely find more suitable conditions in the north to breed. El Nino has brought an expected wetter than average winter to the southeast United States, where the species is already known to exist.
Follow CNN Health on Facebook and Twitter.
Read more: http://www.cnn.com/2016/01/28/health/el-nino-and-zika/index.html